Thinking of purchasing your first drone? Have no idea as to what type of drone to buy? Asking yourself "What's the best drone for beginners?"
It can be very easy to spend hundreds to thousands of dollars on a drone. If that expensive "toy" breaks after one flight, you will not be happy. The same mistakes can also be found when purchasing your first RC plane, but today's drones can have prices up to $10,000!
These mistakes can be avoided. I advise you to start small, then work your way up. Here is your beginners guide to purchasing your machine. When purchasing the best drone for yourself, you must consider:
Flying qualities

Required construction

Price

Durability
How Does It Fly?
For your first drone, you want it to fly easy in the air. However, you do not want it to fly too easy. Confused? A lot of the high-end, new aerial quads are so stable, that anyone can fly them. But ask yourself, does that truly benefit your skills? It is good to have these "quirks", but you want to gain flying skills from your beginner drone.
You also do not want anything too fast. You will crash more if you have a wicked, fast drone for your first. I recommend not getting a drone faster than 25mph top speed (unless you really can control your speed).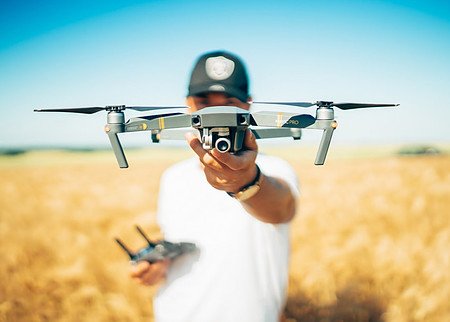 Construction Before Flying
When you look online for a drone, you will be looking at the finish constructed product first. Some people purchase their drone and realize it needs to be put together first. As a beginner, this can turn you off. This is common with first person view (FPV) racing drones.
The "quick and fly" drones are classified as RTF (ready to fly). They are already constructed and all you have to do is take them out, charge the battery and fly! The drones should come with everything you need.
Some drones are ARF (almost ready to fly). Like I said before, FPV racing drones are common to be sold like this. They require some construction and for the buyer to have batteries and their own transmitter. Unlike a RTF, they do not provide all the parts needed. Some experience and additional equipment is needed to build these quads. For example, if your motor happens to die, do you know how to fix it?

Price
For your first drone, you do not want anything expensive. Drones can cost an arm and leg. You should not be spending more than $600 on a new drone. Things that affect the price of drones are:
Camera!
Range
Speed
Flying time
Other special features
If you eventually want to get a drone to take amazing pictures and videos, then your first should get a simple and cheap drone for less than $100. It is better to crash this drone and get better before purchasing the more expensive one.
You do not need a good range for your starter quad. You should be practicing maneuvering by looking at your drone and not in its camera.
Speed should not be you priority. The focus is getting the handling "lock down" first. It is harder to control your drone when it is moving fast.
If you can find a drone for a reasonable price and good flying time, go for it! The longer you are in the air between charges, the more you practice and the better you get.
Durability
Propeller guards are your friend! They protect the blades when the drone crashes. Replacing the blades will become a common occurrence with flying these machines. Protecting them can increase lifetime use. Also avoid expensive materials, such as carbon fiber and aluminum. They bring up prices and tend to break at harder impacts than the cheaper plastic materials.
Ready to Hover?
The drone industry is growing every day. People are turning the hobby to a full-time business in all areas. What ever you plan to do with your dream drone, you have to start somewhere. Maybe you have the money to spend on a $5,000 drone up front with no experience. If you do not mind if it breaks after a flight, then go right ahead. If you are in the majority, then start small and build your way up. I promise that you will be laughing crashing your $100 drone more than your $1000 masterpiece.