In normal life, you have a busy routine but on long flights, you would have the perfect time to catch up on many tasks to make your flight entertaining and busy.
There is Inflight Entertainment (IFE) but I strongly suggest you bring your own entertainment items and long flight travel essentials for long-haul flights. You do not want to rely on in-flight entertainment for the whole flight. Here is what to do on long flights, so that you do not get bored.
Read A Book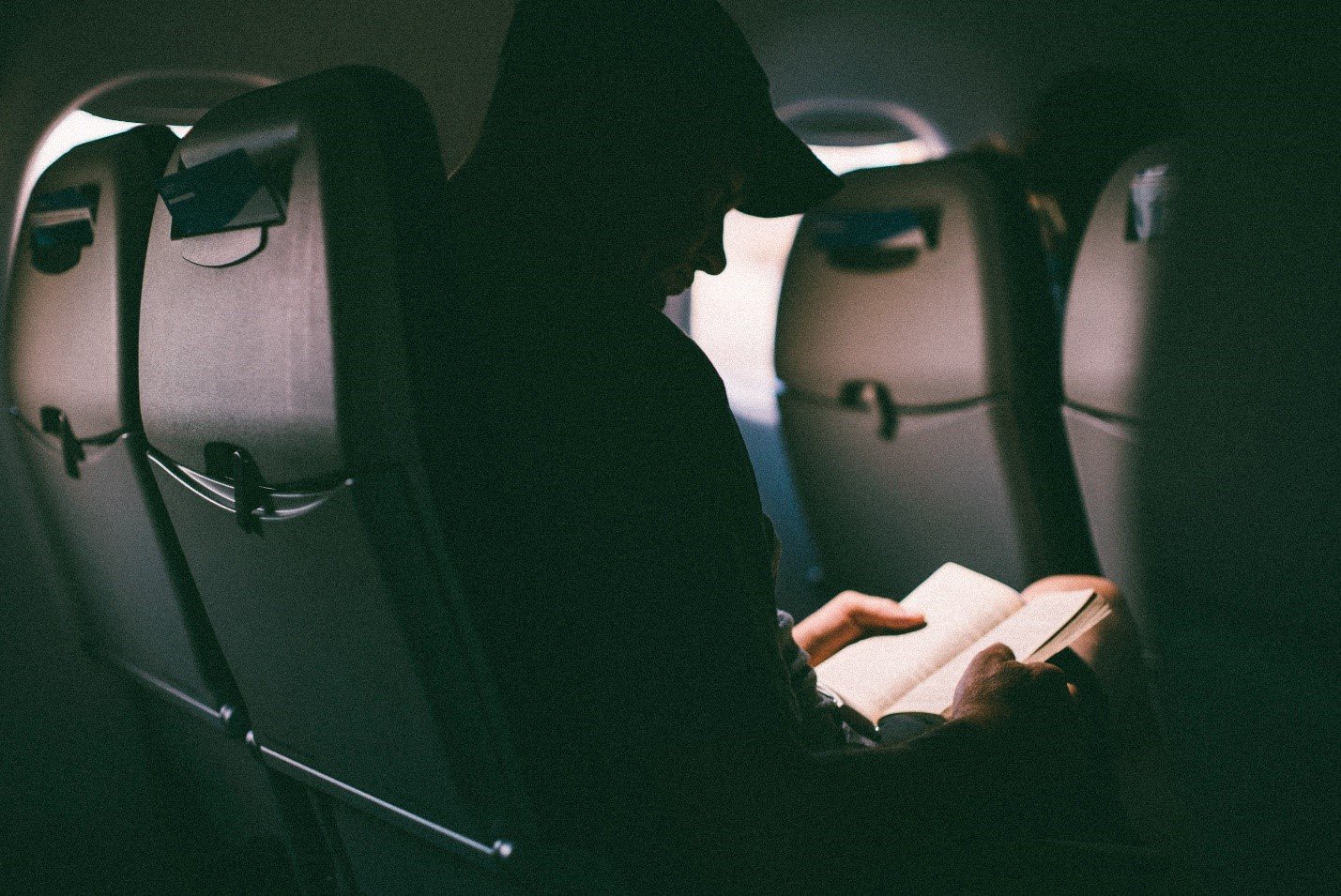 Reading a book can become your favorite thing to do on a long flight. You might have your colleagues and friends suggest you name of books to read in your spare time. Why not give it a try while you are 38,000 feet in the air! Some of us would have a list of books you want to read but never found the time to read them. Long flights are the perfect time to catch up on reading.
If you do not want to bring physical books, then you can download books on an iPad, smartphone, or laptop. They are so many reading applications, apps, and software you can use to ensure your next favorite book is available on your next flight.
Watch A Movie or TV Show For The Long Flight
In normal life, the average person will have a busy routine, but on long flights, you would have the perfect time to catch up on popular Netflix movies or long TV show episodes. Some onboard aircraft have in-flight entertainment systems that have their own selection of movies you can enjoy. However, do not rely on this because most do not have many options to chose from!
It is better to prepare what you are going to watch on your flight. It is highly recommended to download the movies or shows you want to watch before the flight. Aircraft WI-FI is not the best and can disrupt the experience! Plan ahead and download!
If you have your partner, family member, or friend with you, you can watch the same movie or TV show together. You can bring movie snacks and drinks on the flight. It would be your own little cinema experience while you soar in the air.
Listen To New Music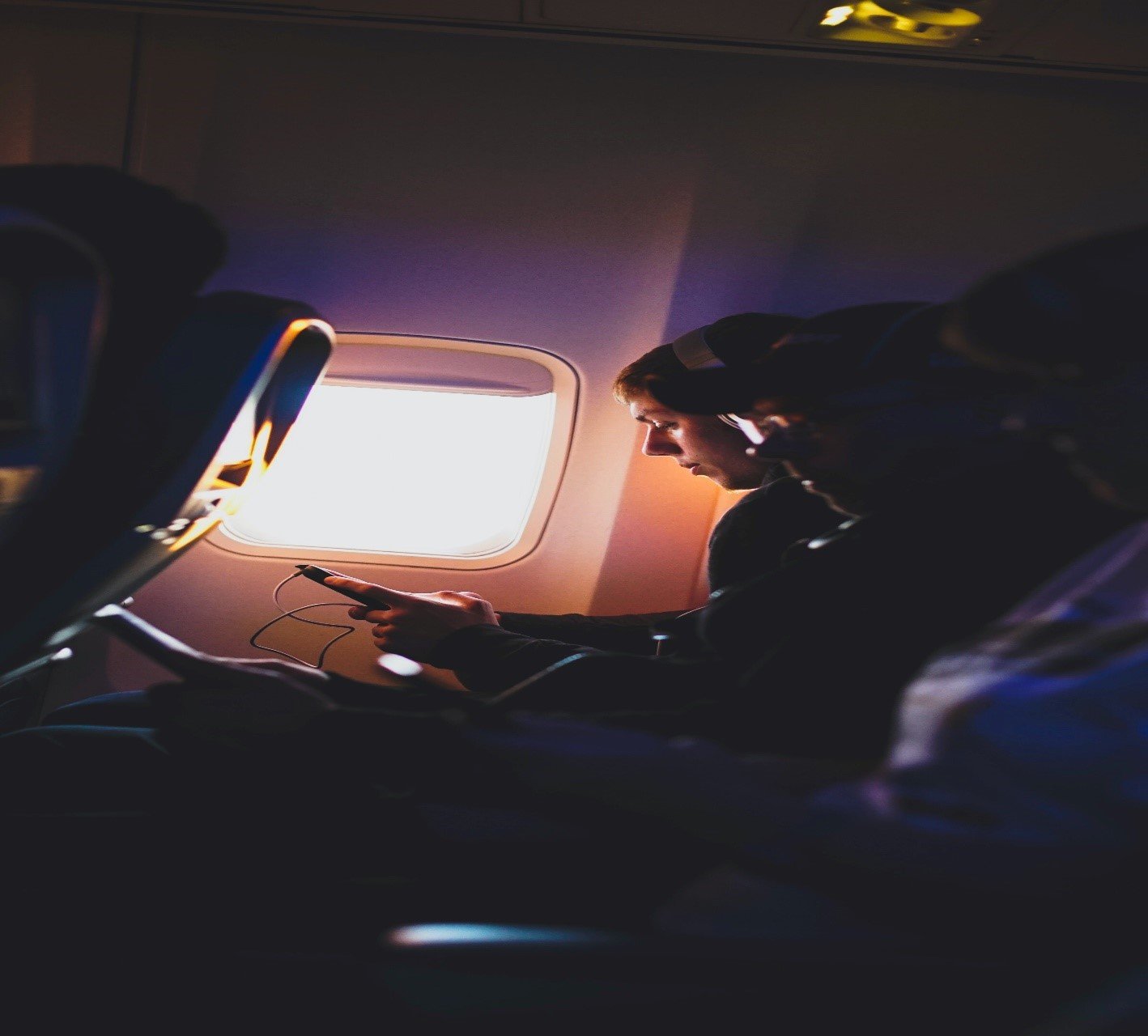 Ever found yourself with an "outdated" playlist? What better time to catch up on your favorite artist and band while on an aircraft! Some onboard aircraft inflight entertainment database contains a list of old and new music and audio you can enjoy for your entertainment. But like I said before, this list can be limited.
Downloading your favorite music on your smartphone or computer is the perfect travel essentials for a long flight without distractions.
Catch Up On Sleep
If there is nothing else to do, then simply get some sleep with a good neck pillow and eye covering! Some airlines will provide these items, but check and make sure they are available before just in case! You can extend your seat to make it more comfortable, and ask for a blanket from the air hostesses. Proper sleep can turn a 7-hour trip into 1!
Organize Your Trip
If you did not found a time to plan and organizing a trip, then a long flight would have the perfect time to do this. Long flights give you several hours which are fit for you to organize your tour and trip plans to make your holidays more smooth and entertaining, even if you already sorted out major factors. Making sure accommodation, transportation, and events are in order to maximize trip time. Estimate the time and money you will spend each day on different locations with your Budget is also important to plan. Making sure your trip is ready to be executed as soon as you arrived is the way to go!
Bring Your Laptop & Work!
Are you running an online business? Is your trip work-related? Are you a student that has assignments to completer? Well, why not use this time and be productive! You can find a lot of time in a long flight to complete all these tasks with your laptop. A long-haul flight is really great time to get work done. Be productive and make your boss or professor happy!
Photo & Video Editing
If you are heading back home, you likely enjoyed your trip and captured a lot of photos and videos. However, you didn't get time to edit them. You can find all the time you need on a long flight to get them ready. They are a lot of work that can be done to ensure your videos and pictures come out perfect. This can take a lot of time, but you can get it done by utilizing long flight hours.
For my bloggers, Instagram influencers, and Youtubers, you know the countless hours that must be spent putting content together. Make sure you are editing them in the aircraft, so when you reach your destination you would have perfectly edited photos and videos of your trip. This will make you and your audience very happy!
Write a Journal, Article, or Blog post
If you are coming back from your trip and want to convey your adventures to friends, every fine detail will become hazy with time. To ensure you can provide the most details of your trip, keep a journal and write about every moment. You can write all these events into your blog post, share all the detail to recommend others of your trip and develop an interest in that area. All you would need is a pen and a notebook. You can also use a phone, tablet, or laptop to start your writing.
Play the Onboard Games
Most of Airlines' IFE database not only includes music, videos, movies, and TV shows, but they also have a good collection of games you can play. Games vary with airlines' IFE database, but for some, you can play multiplayer games with your fellow passengers! As always, it is recommended to download games prior to the flight on your smartphone, tablet, or laptop to ensure games will be available to you. This is almost a must if you are traveling with kids or children!
Chat to your Neighbour
Feeling friendly? There is no harm done talking with your seatmate and with your neighbor in the aircraft. You can introduce yourself, make new friends and even play games together. Have discussions on different topics to develop your power of communication and speaking skills. Try to learn and understand different cultures if you are not from the same country. If they are not interested, however, do not force them to make an interaction! Find someone else to talk to if you really want to strike a conversation. The cabin crew would likely be more friendly than passengers, so they would be easier to talk to.
Move Around In The Aircraft
On a long flight, you were likely relaxing in your seat for several hours, but it is a good idea to move around from your seat, stretch your arms, back, hands and legs. Get that blood flowing and walk to the levorotary. This activity will not only ease boredom and exhaustion but also keeps you more fit for a healthy life.
Long Flight Essentials
Those are a few things you can do on a long flight. They are some items you can bring on a long flight to not only ease boredom but be overall prepared for anything while traveling. Here are long flight essential items:
Laptop
Tablet / iPad
Your own headset
Play Cards
Neck pillow
Collapsible water bottle
Pen and notebook
Medication
Hand Sanitizer
A Travel Organizer
A Sleep Kit
A small bottle of essential oil
A stick of lip balm
Portable Video game
Snacks
Comfortable Footwear
Gum or Candy
Say "NO" To Bordom On Your Next Long Flight
In normal life, you have a busy routine, but on long flights, you would have the perfect time to catch up on the above tasks to make your flight pleasurable and busy. Use the opportunity while you are thousands of feet in the air and become productive. Planning what you want to do on your flight is very important. Bring the required long flight essential to make your flight a great experience and enjoyable.